August 2023
Carpentry Therapy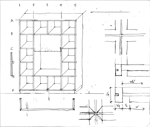 As some of you know, I have an occasional side hustle: I make furniture, and do odd carpentry projects. Sometimes the work is for income (such as it is). Other times it's for friends and family, where I see some payback karma in the endeavor. Then there are the times it's more personal. In the latter instances, the satisfaction comes when I stroke myself if the completed project seems as least moderately attractive. My therapy.
The latest project had my two worst clients: the wife and I. It started with a recent purchase of a small sculpture – the latest in a history of similar acquisitions. This instigated a debate. "Now, what are we going to do with this?" "Can you build a case?" "Sure." A simple solution, right?
Well, not so quick…
Issues:
It had to incorporate lighting.
Because my shop is in the basement down a dogleg stair, it had to be separable into pieces, so it could be moved upstairs.
The location we had in mind was where we had a favorite drawer case purchased while in Thailand many years ago. Incorporating that case seemed essential (to me) somehow.
I had to work within my equipment restrictions.
My process:
All my designing is old school: hand sketches on gridded tracing paper. This one was no different. In fact, the sketching was easier than usual. One drawing. The rest stayed stuck in my head. Most effort for the woodwork design was related to figuring out how to break the piece down into parts with hidden joints and adding some interesting detail.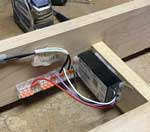 But then, I had to educate myself on the nuances of custom LED lighting. Very intimidating. After many YouTube videos and lots of web browsing, I bought some sample lighting channels and diffusers to see if I could make them work. I think I can, I think I can.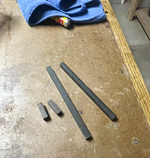 Altogether, the list of materials included about $1,500 for lumber, fasteners, finish, and other carpentry components. For the electrical, the tab came to about $500 for all the associated pieces – wiring, channels, LED strips, transformer, dimmer, diffusers, and such.
On top of that, I now have a soldering station and other unique tools which maybe will see future use - who knows.
With material scattered about, I was able to start what turned out to be a 6 week construction process.
Trivia Facts:
Learning to solder properly has a steep curve – at least for me. My connections are not pretty. (But no one will see them, and the lights all work – finally.)
We wanted to do square ebony pegs at each joint intersection. How do you do that?

First, you have to own a square chisel of the right size. Now I do.
Then you have to make square dowels. The bandsaw was handy.

Actual construction time? I estimate 200 hours, more or less. This doesn't include the time for research, design, comparison shopping, lumber yard issues, and the repetitive trips to Lowes for items I had forgotten to have at the ready.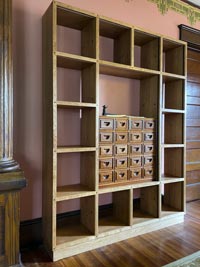 Moving and final assembly was actually pretty satisfying - since it worked close to plan. The four major pieces were easily man/woman-handled up the stairs. They bolted together as expected. The linking of wiring in the base snapped together OK. Two hefty power lifts were needed to flip it – one from backside down to frontside down, and the other from flat on the floor to upright in place. One more application of tung oil finish was done once we knew we would be keeping it where it is.
Now we have the enjoyable task of filling up spaces with memories.
Back to the regular gig...
PS, some specs:
All boards laminated with two surface layers of ½" cherry veneer plywood and inner layer of 5mm lauan utilty plywood
All joints dadoed, glued, and screwed.
¾" solid cherry for face moldings and base construction
¼" square ebony dowel pins
White Iris LED lighting, 2700k, 4.8w/m, 60LED/m
Magnitude Lighting MinDrive 60 watt constant voltage LED driver
Lutron Caseta dimmer with remote controls
Three coats Minwax Tung Oil Finish (blend of oil and varnish)
Missed earlier newsletters? Find them here:
March 2023 "When? please tell me when"
September 2022 " Facilities Management – My Way"
March 2022 " Facilities Management – My Way"
January 2022 "Report Writing for Dummies"
October 2021 "Writer's Block and Other Musings"
May 2021 "Lower Ed?"
September 2020 "Just Stylin'"
July 2020 "Reflections on Our Covid Times"
February 2020 "Quirky Clients – The Smart Version"
September 2019 "OPM Cheerleader"
June 2019 "Can You Perform?"
February 2019 "Today's Word"
October 2018 "The Case for DIversity-Architect's Version"
June 2018 "A Capital Idea"
March 2018 "Me Too?"
January 2018 "R U Trending?"
October 2017 "Do You Measure Up?"
August 2017 "I'm an Architect and I'm Here to Help"
January 2017 "The Future of Higher Education"
November 2016 "The Owner as CM?"
August 2016 "Don't you just hate..."
June 2016 "Duck Testing"
April 2016 "Once Upon a Time..."
January 2016 "I want to take you higher"
November 2015 "Moderating in all Things?"
July 2015 "Alphabet City"
May 2015 "Acey Trey Trey Trey?"
January 2015 "Nature or Nurture?"
August 2014 "Acey Trey Trey?"
June 2014 "The Seven Deadly Sins"
March 2014 "Thar She Blows!"
November 2013 "Giving Thanks"
September 2013 "Back to School?"
June 2013 "What Time is It?"
March 2013 "Acey Deucey?"
January 2013 "A Swamp Full of Alligators"
October 2012 "Plan to Live Forever, Part Deux"
July 2012 "A Midsummer Dream"
May 2012 "Are you Virtually Working?"
March 2012 "Your Huddled Masses"
January 2012 "Observing Observations"
October 2011 "I Want What I Want"
August 2011 "A Beach Read"
May 2011 "NeoLuddite or Technophile?"
March 2011 "Do Your Silos Leak?"
January 2011 "Plan to Live Forever!"
November 2010 "May I Have A Plan, Master?"
September 2010 "How do we choose?"
July 2010 "Good People Behaving Badly"
May 2010 "LEED: LEADing or Dead Weight?"
March 2010 "Why does it cost so much?"
January 2010 "Design/Builders show us your softer side."
November 2009 "What the Facilities?"
September 2009 "Why Do Architects Make Good Owner's Reps?"