November 2013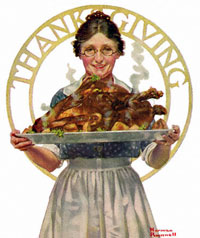 Giving Thanks

What do we have to be thankful for?

With the approach of year's end and various holidays, there's often an urge to contemplate things that we should be thankful for.  This prompted my contemplation of what has happened over the years in our related professions.  What warrants recognition?

One man's opinion:
Women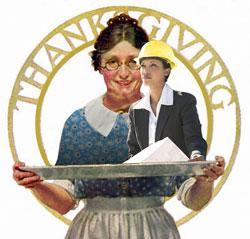 My School of Architecture graduating class some years ago was typical of the time.  In a class of 30, we had no women after the first year, when the only potential candidate dropped out of our six-year program.  These days, by contrast, in some graduate Architecture schools, women constitute more than half of the student body – a good thing.  Engineering, Construction, and Facilities disciplines may not have seen equivalent advances; but the numbers have increased nevertheless.
Others can speculate on the value of the different perspectives the two sexes have toward our work and our 'products'.  There may be valid, definable, and appropriate differences.  While others can certainly speak more eloquently than I, I'm certain that in virtually every life endeavor gender equality is a worthy goal.
Diversity
As with women, ethnic diversity has expanded.  No longer are our professions restricted to stereotypical Caucasian males.  Apart from the legitimate equal opportunities which all should see in employment, there is great value in how this trend accommodates and advances the fascinating and stimulating traditions and expectations of our diverse populace.
We serve every one, why shouldn't we be 'everyone'?  Increasingly, as time goes by, we are.
Computers
The Commodore 64 or the Compaq SLT 286 – check them out.  Those were some of my early ones.  Actually, since the Compaq, I have never used a desktop, just portables – but, I digress.  The point is that the new principal tool of our trades has enabled us to do things impossible just a few decades ago.
Historians describe various 'Technical Revolutions', since the great 'Industrial Revolution' of 1780 to 1820.  Forgive the lack of accuracy, but I see this evolution represented by the roughly $2,000 piece of hardware sitting on our desks.  These enabling devices will probably morph into something even more powerful and intrusive (take some clues for smart phones more powerful than your old PC).   Fascinating.
Internet
Remember the yearly release of Sweets catalogs?  Even when they were rife, didn't it seem there had to be a better way?  OK, maybe you're not that old.  Remember the yearly release of the Sweets CD?  How long did that last?
Product information, installation instructions, pictures of applications, live streaming teleconferences – they're now all available after a few strokes on your keyboard.  (See above.)
Wikipedia (curiously, something which only exists because there is an Internet) has a posting, which states, "… as of June 2012, more than 2.4 BILLION people - over a third of the world's human population - have used the services of the Internet".  This, they say, is a 100 times more people than just 8 years prior.  The explosion of knowledge and information exchange is remarkable.
Software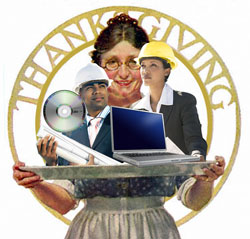 Think about it.  In the last 40 years, we've added:
Word Processing
Spreadsheet Applications
Drafting Programs
Building Information Modeling
Clash Detection
Presentation Applications
Three-Dimensional Modeling
Video Production
Financial Management Software
Project Management and Scheduling Applications
A coworker once said to me "CAD is a great innovation.  I now have staff that has the ability to make as many mistakes in an hour that I used to make in a week.  Heaven help me."
In spite of this potential pitfall, we have immeasurably enhanced design, construction, and facilities management.  The dies have been cast, without question.
Plastics
I just want to say one word to you.  Just one word.  Are you listening?  "Plastics."
I'm not sure Dustin Hoffman's movie confidant had construction in mind when he offered his advice in The Graduate, but we've seen it there nevertheless.  'Wood' trim that doesn't rot, long lasting dampproofing and waterproofing membranes, PEX tubing, comfy Polartec blankets - life has definitely improved.
While there are good reasons to be cautious about use of non-renewable resources in our plastics products, more and more there is increasing use of renewable and recycled content in the things that we use.
LEED
I have a guilty pleasure.  I enjoy leisurely hot showers under a strong stream of full-flow water.  More and more, this becomes harder to justify; and awkward to admit.  Who can we credit for my dilemma?  The U. S. Green Building Council comes to mind.
With LEED accreditation and building certification, they have forced us all to sharply focus on the merits of what conscientious professionals had already known to be important.  While the bureaucratic surcharges of the process can be criticized, and there are some unintended negative consequences to LEED certification, the checklist is an invaluable guide to appropriately constrained construction, renovation, and facilities operations.
As a consequence of the USGBC's initial push, our awareness and consideration has now moved into more global concerns: Carbon emissions, forms of power generation, and modes of transportation are just a few.
ADA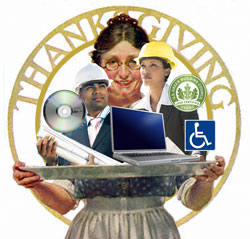 It has been said that at some point in your life, if it hasn't happened already, you will be disabled.  If you're fortunate, It may be temporary – perhaps a broken bone or recovery from surgery.  Many of us, though, have issues that are long lasting.
Fortunately, long gone are the days when those challenges were casually ignored.  Now, the analysis and debate is about how accommodating we can and should be in our work and living environments.
The Americans With Disabilities Act is only 23 years old at this point, but the letters ADA have become synonymous in the minds of some with Universal Design.  While this is not precisely correct, since Universal Design is more about accommodating people of ALL abilities, it is not a bad consequence that these distinctions have become blurred as we seek to improve our environments.
In my view, the burgeoning interest on the Paralympic Games is a positive consequence of accommodating those who function differently.  Other, more prosaic, synergies have evolved.
Post-Modernists
How could this possibly be so?  Their architecture was utterly inane.
The positive consequence of their ineptitude, however, is that we all began to reconsider the merits of ornament and articulated architecture in our buildings.  It was the cultural equivalent body cleansing.  I think the buildings of the 2000's have more visually pleasing elements that those of the 1950's.  (One man's opinion – remember)
Opportunity
Each of the worthy elements mentioned above obviously contains imperfect resolution.  We all know the cliché, but I'm intrigued by the prospects of continued positive and thankful change.
We can look at each area, and say that there is 'work' yet to be done.  Some examples:
Social equity is not uniform.
While women and ethnic groups may start certain fields in reasonable numbers, many fall out below management levels.
Many of the various 'tools' described have allowed us to adopt a sedentary work-life.  This trend would be better if there were some sort of activity offset.
Both nationally and globally, we have yet to find ways to dramatically address quality affordable housing production and maintenance.
We need to find ways to consume less is the ways we live and work.  Fewer resources, less energy, less space.
Comment
So what can you add?  Are you thankful?  What opportunity will you be in pursuit of?


Missed earlier newsletters? Find them here:
September 2013 "Back to School?"
June 2013 "What Time is It?"
March 2013 "Acey Deucey?"
January 2013 "A Swamp Full of Alligators"
October 2012 "Plan to Live Forever, Part Deux"
July 2012 "A Midsummer Dream"
May 2012 "Are you Virtually Working?"
March 2012 "Your Huddled Masses"
January 2012 "Observing Observations"
October 2011 "I Want What I Want"
August 2011 "A Beach Read"
May 2011 "NeoLuddite or Technophile?"
March 2011 "Do Your Silos Leak?"
January 2011 "Plan to Live Forever!"
November 2010 "May I Have A Plan, Master?"
September 2010 "How do we choose?"
July 2010 "Good People Behaving Badly"
May 2010 "LEED: LEADing or Dead Weight?"
March 2010 "Why does it cost so much?"
January 2010 "Design/Builders show us your softer side."
November 2009 "What the Facilities?"
September 2009 "Why Do Architects Make Good Owner's Reps?"