August 2017

"I'm an Architect, and I'm here to help."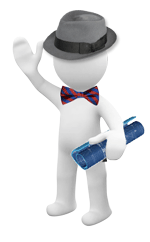 Ronald Reagan's original quote had a different attribution.  But, that's not my profession.  Nevertheless, we sometimes inspire the same confidence as Ronald's maligned government employees.
I'll ask: What's a degree in Architecture worth?  What are the merits of Architectural training?  Generally – How worthy are we?
My first newsletter after starting No Left Turn, "Why Do Architects Make Good Owner's Reps?", touched on aspects of these questions.  It was prompted by my experiences as the Director of Project Management in the Office of Facilities at a well-known University.  Part of me wanted to offer insight into alternate career possibilities for other Architects.  But, if truth be told, a bigger factor may have been my need to counter years of questioning about how an Architect could succeed in the "rough and tumble" world of managing capital programs.  While I had been hired by another Architect who valued my credentials, he was succeeded by others less enamored.  Regardless, I still feel what I wrote back then is correct.
But, there have been more charges.
During the worst times of the last recession, as I was restructuring my livelihood, I somehow landed on the mailing lists of career-oriented news aggregators.  Yahoo was the most disconcerting.  Every few weeks, it seemed, there would be a listing of the "Worst Professions to Pursue", or the "Worst College Degrees", or the "Worst Jobs".  Architecture was consistently first or second.  Architects were considered the least useful college graduates, and had the highest unemployment rates nationwide.  The assertions ranged from statements we had an education lacking in practical job skills, to the fact that there was a glut of professionals in an economy where construction had tanked.  I had to admit there was some truth to the stories.  But, somehow, the reports seemed unfairly dire.
Nowadays, I've moved on to a slight reinvention of myself.  Not in an Architectural firm, and not on staff in a facilities organization, the business card now says "Consultant to Architects, Owners, and Contractors".  But some things never seem to change.  Many new clients are colleges and universities, where I work with a regular partner.  During introductions, he talks about his engineering and facilities service background – all very acceptable.  For me, on the other hand, the sentence usually starts "I'm an Architect, but…".  Why is that?
This introspection has been heightened by the pursuit of a career different than the normal "Design Architect".  I thought the hesitant responses of chief financial officers and key facilities managers warranted rethinking my presentation and approach, to display more self-confidence.
While our profession is consistently admired, with preconceptions of intellect, creative skill, and artistry, for many there are assumptions that those abilities were refined with scarce insight into practical details and nuance.  Broadly speaking, of course, this is hardly fair.  But, there is enough anecdotal evidence to justify some hesitation on the part of CFO's, Contractors, and senior facilities managers.  We do this to ourselves, I suspect.
How?  We maintain some stereotypes.  For example,
We perpetuate an ingrained vocabulary.  Our jargon and arcane terminology disarms and distracts many clients.  Unsure about asking "What are you talking about?", they may be thinking "Do they really grasp my concerns?".
We talk a lot about how things should look.  While appearances are important, they should be the result of a process, not the start.  (Form follows function.)  CFO's are often more concerned about money issues (really?), while facilities managers worry about things like repairs and inventories.  It's no wonder they have misgivings when "ambiance", "scale", and "interplay" appear to have higher priority.
We can seem disconnected when discussing how things work.  Net Present Value in a Life-Cycle Cost Analysis shouldn't be an alien topic.  Neither should be the merits of hydronic heating vs. forced hot air.  Sure, others may crunch the numbers or do the fuel cost analysis.  But, lacking conversational ability is noticed pretty quickly.
When confronted with apparent organizational, process, and business practice issues, rarely do business leaders think "I need an Architect to help me figure this out."  Interestingly, the Information Technology profession has no such handicap, having usurped the title "System Architect" with some success.  (By the way, where was the American Institute of Architects as this was happening?)  When we step into the room as part of a solutions team, it's not often we sense a collective sigh of relief.
How do we fix this?
Start with college curricula
I had a small graduating class for my professional Architecture degree – just 30 souls.  Even so, we went in diverse directions: World Bank Program Director, Contractor, Facilities Director, Teacher, Priest, Engineer, Developer, Film-maker, Software Developer, and even Design Principal.  I get the fact that an Architectural education alone can't cover this gamut.  Follow-on degrees came into play with my classmates. But, why can't the professional program cover more of the fundamentals beyond History, Theory, and Design?  Financing Methodology, Fundamental Mechanical Engineering, Client Relations, Facilities Management Principles, Organization Structure Analysis, Conflict Resolution, Professional Mentoring, and more.  It's a long list, perhaps.  And, while it's not fair to say these issues are totally suppressed, perhaps there might be more diversity in the classroom.  Universities shouldn't push us out the door to fend for ourselves.
It's interesting.  An MBA and an M. Arch. take about the same amount of time to acquire.  But, which credential garners more attention and respect when shown after the name on a business card?  Are MBA's that much smarter than M. Arch's?  Of course not.  However, in certain settings, they are perceived to offer more value and insight.  Architects, however, are trained to see patterns where none are apparent.  We routinely plan neatness and clarity of structure when there is apparent disorder; and our goal of client satisfaction is unquestioned.  The American Institute of Architects now sponsors some National Public Radio programs.  Why don't they play this up?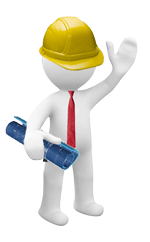 We can reach out.  Sit in on conferences and seminars of our client and potential client professional organizations.  Read.  Find mentors.  Collaborate with diverse partners.  Befriend related professionals – not just Architects.  Anything to break the cycle of stereotyping.
We should "Own" our advantage.  No apologies.  No hesitation.  No Dispute.  As I said, we're trained to have an expansive view, and we know that betterment is achievable.  When we also have experience which supports knowledgeable intervention, why not play that up?
OK, yes, I am an Architect, and I am here to help.
Missed earlier newsletters? Find them here:
January 2017 "The Future of Higher Education"
November 2016 "The Owner as CM?"
August 2016 "Don't you just hate..."
June 2016 "Duck Testing"
April 2016 "Once Upon a Time..."
January 2016 "I want to take you higher"
November 2015 "Moderating in all Things?"
July 2015 "Alphabet City"
May 2015 "Acey Trey Trey Trey?"
January 2015 "Nature or Nurture?"
August 2014 "Acey Trey Trey?"
June 2014 "The Seven Deadly Sins"
March 2014 "Thar She Blows!"
November 2013 "Giving Thanks"
September 2013 "Back to School?"
June 2013 "What Time is It?"
March 2013 "Acey Deucey?"
January 2013 "A Swamp Full of Alligators"
October 2012 "Plan to Live Forever, Part Deux"
July 2012 "A Midsummer Dream"
May 2012 "Are you Virtually Working?"
March 2012 "Your Huddled Masses"
January 2012 "Observing Observations"
October 2011 "I Want What I Want"
August 2011 "A Beach Read"
May 2011 "NeoLuddite or Technophile?"
March 2011 "Do Your Silos Leak?"
January 2011 "Plan to Live Forever!"
November 2010 "May I Have A Plan, Master?"
September 2010 "How do we choose?"
July 2010 "Good People Behaving Badly"
May 2010 "LEED: LEADing or Dead Weight?"
March 2010 "Why does it cost so much?"
January 2010 "Design/Builders show us your softer side."
November 2009 "What the Facilities?"
September 2009 "Why Do Architects Make Good Owner's Reps?"