April 2016
Once upon a time…
in a land not far away…
This, now, will NOT be a fairy tale
When I was hired as the Chief Architect of the New York office by the A/E firm that was then known as Ellerbe Becket, my first assignment was to save a job in trouble. The firm had been hired by Deloitte, Haskins & Sells (also now with a name-change) for the interior design of its planned new US Headquarters in Wilton, Connecticut.
Most of the space was fairly conventional – offices, workstations, support spaces, etc. – and that portion was already under construction when I started. The reception and executive area, however, was an entirely different matter.
The Design Principal in the office had latched onto the space for its opportunity to demonstrate his concepts of quality modernist architecture. In this endeavor, he had enlisted a number of avant-garde near and recent architectural graduates. There were scant indications of built work in their portfolios, as far as I could tell.
The design models and sketches were still "evolving", and the client was saying he wanted construction to start in a month to meet the hoped-for move-in date.
My first question: "What's the budget?" No answer.
My second question: "Has an estimate been done?" Well – No.

The design was a massive array of architectural wonders. Walls that did not touch the ceiling. Walls that did not touch the floor. Sometimes walls that didn't touch either. Rooms with floating glass ceilings. Glass partitions with piercing furniture elements. Furniture intended to visually float above the floor. Metal surfaces that curved in all directions. Just a few examples.
I itemized the features, and made an educated guess as to how much it might cost to build each one. I then asked the Owner's Rep how much he was prepared to spend. After his recovery, we got an answer that finally gave us some parameters.
Then, we moved to the next issue: How could the design sketches and models be realized? And, equally important, how could the solutions be documented in biddable, usable contract documents?
First, the buildable part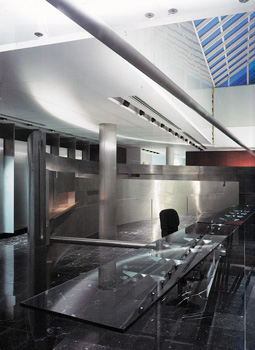 I offered that it was unreasonable to pay for sheet metal forming of compound curves. Sheet bending had to be simple - one direction. Reluctant acceptance.
Partitions had to either sit on the floor or hang from the ceiling. Free-floating was not an option. Reluctant acceptance.
The lighting above the suspended glass ceiling had to have a bulb life such that relamping would be needed rarely (Relamping from above was not an option). Reluctant acceptance.
The glass desk which hovered over a lengthy stainless steel cantilever had to have some form of discrete end support, to avoid restructuring the floor system and to make it so that it did not flex. Reluctant acceptance.
The desk that penetrated a glass wall had to be done through an opening within the length of the wall – not at the corner – so that the opening could have side supports. Reluctant acceptance.
Then, how does this get documented?

When we thought we knew how something would be constructed, we drew conventional contract document details.
When we didn't know how it would be built, I had requirements. The item had to have elevations, sections, and profiles reduced to paper. "If you can't draw it, they can't build it." And yes - Reluctant acceptance.
Consequently, many drawings were produced for what was the basis for a quasi design/build interiors commission.
The Build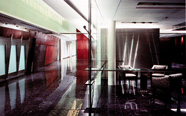 The Construction Manager, thankfully, rose to the occasion with a plan that was the project's ultimate salvation. He had selected a custom architectural metal and glass subcontractor to transform the mélange of contract documents and design intent drawings into reality.
Periodically, I would observe the builders and designers attempt to resolve their "issues" in focused work sessions. I kept my distance.
I suspect the designers learned a few things, and I was pleasantly surprised by the cooperative nature of the construction manager's team.
Just a few months later – somewhat miraculously – the project was completed. After which, the Design Principal was relentless in his pursuit of publicity and awards consideration – with some success. The most visible was the feature article in Architectural Record magazine, with a detailed photo essay and complimentary architectural narrative.
Looking back
In the ensuing years, I have heard that many of the features have not been used as intended. For example, a receptionist has never been seated at the front desk – a person's legs couldn't fit. Cell phones rendered the many phone booths unneeded. Teleconferencing technology was not adequately accommodated in the conference room. Not my problem, I thought. The well-informed client was part of the acceptance.
I see these defects, however, as validation of my skeptical attitude about non-functional sculpture masquerading as architecture. But then, that may just be me.
Lessons learned
At the time, I had little good to say about the naiveté of the Design Principal and his coterie of acolytes. I was frustrated by their apparent lack of appreciation for my efforts to effect execution of their project. And so it was that we parted company, with few regrets, not long after, to go our separate ways.
With the added insulation of some years of healing since the events, I now see some positive consequences of the whole experience. The pictures in the Architectural Record article actually look quite good to my older, more considerate eyes.
I'll even admit a little regret for my imperious behavior all those years ago.
I remain convinced, however, that quality modern architecture has to inspire. But it can only do so when it "gets built", while preserving useful, functional criteria. My practical nature is only satisfied when all elements are addressed more or less equally.
These days, I also feel compelled to reiterate this search for balance, as I advise clients in the design, build, and facilities management activities of our related businesses. Architects, engineers, contractors, and owners are encouraged to seek excellence in both the pragmatic and aesthetic elements of our endeavors.
One man's opinion, of course.
If you would like to see more of what I have described, see "http://mison.com/projects_by_client/corporate-offices-headquarters/deloitte-touche/". The savior/subcontractor still has the project on its website.
Missed earlier newsletters? Find them here:
January 2016 "I want to take you higher"
November 2015 "Moderating in all Things?"
July 2015 "Alphabet City"
May 2015 "Acey Trey Trey Trey?"
January 2015 "Nature or Nurture?"
August 2014 "Acey Trey Trey?"
June 2014 "The Seven Deadly Sins"
March 2014 "Thar She Blows!"
November 2013 "Giving Thanks"
September 2013 "Back to School?"
June 2013 "What Time is It?"
March 2013 "Acey Deucey?"
January 2013 "A Swamp Full of Alligators"
October 2012 "Plan to Live Forever, Part Deux"
July 2012 "A Midsummer Dream"
May 2012 "Are you Virtually Working?"
March 2012 "Your Huddled Masses"
January 2012 "Observing Observations"
October 2011 "I Want What I Want"
August 2011 "A Beach Read"
May 2011 "NeoLuddite or Technophile?"
March 2011 "Do Your Silos Leak?"
January 2011 "Plan to Live Forever!"
November 2010 "May I Have A Plan, Master?"
September 2010 "How do we choose?"
July 2010 "Good People Behaving Badly"
May 2010 "LEED: LEADing or Dead Weight?"
March 2010 "Why does it cost so much?"
January 2010 "Design/Builders show us your softer side."
November 2009 "What the Facilities?"
September 2009 "Why Do Architects Make Good Owner's Reps?"