September 2013
Back to School?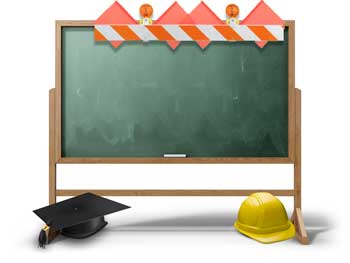 What is it that distinguishes the management of Facilities Operations and Capital Programs in higher education from other settings?
Other venues may have stereotypes.  For example:
The corporate world is often focused on supporting productive work environments.
For manufacturing, it's about enabling the process.
In health care, the maintenance of safe, healing facilities is essential.
Retail blends visual appeal with functionality, and
Residential facilities require knowledge of what keeps "home" a satisfying refuge to flourish and revive.
Each has its idiosyncrasies.  While this may be fodder for other "Notes", this issue is about Colleges and Universities.  Here goes:
It must be noted that (perhaps, obviously) the creation of College campuses is founded on intellectual, non-tangible concepts and needs - the establishment of environments to develop and exchange ideas and knowledge.  It's all very ephemeral.  The facilities issues of these places can be as varied as the intellectuals who lead and attend them, of course; but there are common elements.
The Test?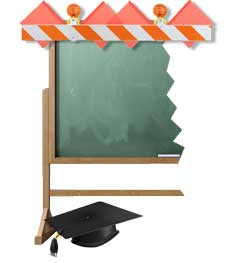 Much has been said of the perennial conflicts that facilities directors seem to have with College and University leaders.  There may be reasons why:
Chief Facilities Officers rarely have the inclination or desire to enter the intellectual debate that grows from the academic experience.
Stereotypically, this amounts to the classical dichotomy between "thinkers" and "doers".  Having come at this from the "Facilities – Doer" side, I have to say that stepping back from the potentially confrontational standoff with an academic leader can lead to frustration.
Sometimes the temptation for avoidance is irresistible.  Also possible, is the situation where the facilities person simply doesn't have the requisite skills to enter the fray.  (Re)training may be needed.
Senior leadership seldom has had hands-on experience in Facilities Operations or Capital Programs.
For a President, Provost, or Dean – highly unlikely.  With a V.P. for Finance or CFO – maybe.  This is not an accusation, or even a complaint.  You wouldn't expect people drawn to academia to come from such a background.  A respected leader will admit to "knowing what they don't know", and bring into the inner circle a coterie of complementary and supportive collaborators.  However, it seems that the unique interests of the Facilities organization are often under-represented.
In a world of competing demands on financial resources, Facilities are often given reduced priority.
Facilities Officers will often complain about this common reality.  Sometimes it's the result of a plain lack of fair play.  Often, these days, this may be the sad consequence of financial pressures on the institution.  Commonly, though, this is done when the consequences of deference or underfunding are not immediately apparent.  It can take decades for the accumulation of maintenance needs to be readily seen by all.
The inflation of costs for a College education has often been attributed to the expenses of Facilities expansion and upgrades.  Some say it's time to cut back.
Is this true?  There is no doubt it has been at least one of the factors.  Residences are filled with more amenities, science facilities have more complex building systems, and high technology has pervaded teaching environments.  All of these require demanding, sophisticated maintenance.
In the legitimate zeal of highly focused facilities evaluation, the understandable decision to forego the latest new project and save some money can be overextended to scaling back on what is honestly needed to preserve and protect what already exists.
The Answers?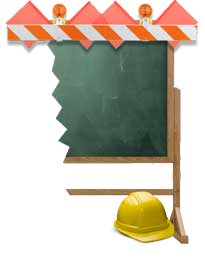 Don't lose hope.  There are many examples of facilities organizations that thrive in this "heady" environment.  What sets them apart from their struggling peers?  Some important factors:
The Chief Facilities Officer and the Chief Academic Office collaborate.
Mutual respect and understanding are essential.  It's often the academic equivalent of having succeeded at "couple's therapy".  The players have learned to answer the "How do you think he/she feels about that?" question, while gaining some acceptance of the "less than perfect" solution.  In any event, you can see positive consequences when formerly wary co-workers come to realize that their partners struggle with sometimes-difficult obstacles to work toward a common goal.
The Chief Financial Officers get the "message".
There's a reason why depreciation is an expense in an income and expense report.  Each year, a portion of the building is "used up".  If it's not replenished, it will eventually be "gone".  The issue is determining the rate of "use" and the amount to reinvest in aging buildings.  When you properly add to this the amount it takes to keep the lights on and run the facilities, a College or University has a good shot at maintaining itself.  Effective leaders understand the imperative, and diligently seek sound methodology.  Clear-headed facilities representatives enable this effort.
The Facilities organization becomes embedded in the institution.
A seat at the "grown-ups" table may have to be earned.  Active participation in the academic and extra-curricular activities of the institution not only demonstrates to others a willingness to be part of the "family".  It helps the participants appreciate the ethos, culture, and tradition of the place.  Many opportunities are available, from engaging students to supporting programs.  When the facilities personnel are no longer thought of as the people in the "back room", everyone benefits.
Is there a law?
Often, when I bring up the subject of working in a higher education environment, someone will attempt to quote a variation of what Wikipedia labels "Sayre's Law" as relevant to the issue.  It goes like this:
"Academic politics is the most vicious and bitter form of politics, because the stakes are so low."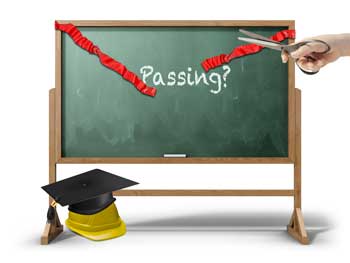 This adage may be an appropriate comment on the debate that is the foundation of higher education; but it rarely applies to the hard realities of what we, the stewards of the buildings and grounds, are responsible for.  In our case, the stakes are far from low.

Passing?

How are you doing?  This is more than a quote from Friends.  Given the right attitudes, academic endeavors and operational activities can coexist, even thrive.  Ace the exam.



Missed earlier newsletters? Find them here:

June 2013 "What Time is It?"
March 2013 "Acey Deucey?"
January 2013 "A Swamp Full of Alligators"
October 2012 "Plan to Live Forever, Part Deux"
July 2012 "A Midsummer Dream"
May 2012 "Are you Virtually Working?"
March 2012 "Your Huddled Masses"
January 2012 "Observing Observations"
October 2011 "I Want What I Want"
August 2011 "A Beach Read"
May 2011 "NeoLuddite or Technophile?"
March 2011 "Do Your Silos Leak?"
January 2011 "Plan to Live Forever!"
November 2010 "May I Have A Plan, Master?"
September 2010 "How do we choose?"
July 2010 "Good People Behaving Badly"
May 2010 "LEED: LEADing or Dead Weight?"
March 2010 "Why does it cost so much?"
January 2010 "Design/Builders show us your softer side."
November 2009 "What the Facilities?"
September 2009 "Why Do Architects Make Good Owner's Reps?"