To get more information about any of these images, simply click on them.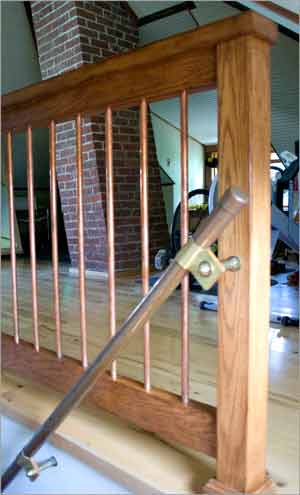 Stair Railing
The construction of a home office in an unfinished attic was intended to blend finish elements with a 'rustic' feel. The stair railing uses untreated copper pipe pickets in an assembly made of oak finished to match the original chestnut woodwork used throughout the house.
Materials: Oak
Details:
Guardrail: Oak posts and rails, copper pipe pickets, concealed post anchor in wood base.
Handrail: Untreated copper pipe rail, bracketed with bent brass plate and oak, anchored with concealed threaded steel rod, finished with brass conduit and brass hardware.
Dimensions: 35"H x 86" W x 22"D