To get more information about any of these images, simply click on them.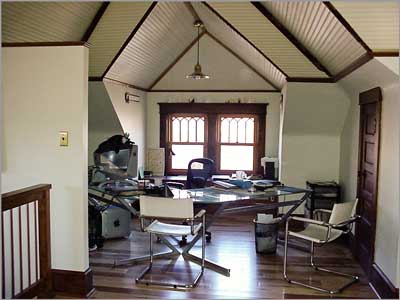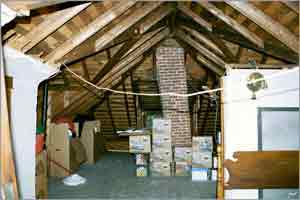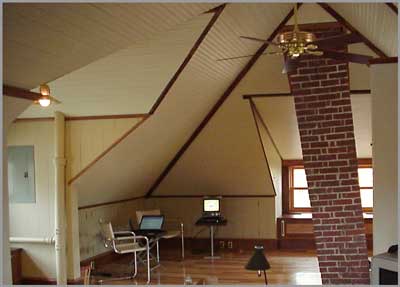 Home Office
A major change. In a 1913 house, the attic was mostly unfinished, except for the remnants of a partially destroyed maid's room. The space was resurrected as a home office. The architectural theme was to emulate detailing that might seem appropriate to the era of the house, while maintaining the slightly rugged "feel" of an old attic.
Materials: Pine beadboard ceilings Pine board kneewalls and wall surfaces where none existed before Refinished plaster at the remains of the old maid's room Oak and hickory window seats constructed to conceal new ductwork. Rustic hickory wide-board flooring Oak mouldings and trim
Finish:
Ceilings and walls: Latex-based enamel
Oak: Satin finish oil-based combined stain/polyurethane
Hickory veneer: Satin finish water-based polyurethane
Flooring: Factory pre-finished
Details: Original non-functional expansion tank retained as historic artifact. Selected mouldings custom-made to match house original. Kneewall storage doors fabricated of pine boards with touch latches. All carpentry and finish by No Left Turn, LLC.