To get more information about any of these images, simply click on them.






Kitchen Island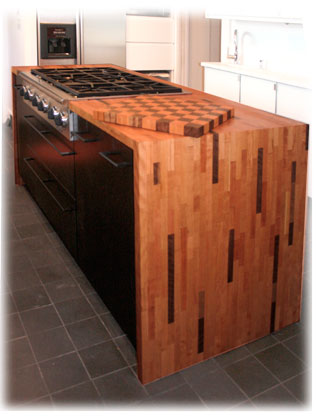 In a mid-century colonial, a contemporary kitchen renovation was being done by a husband & wife, two architects and accomplished cooks. The intent was to honor the craftsmanship in the balance of the house, and create an island surface that flowed from the floor, around the cooktop, and back down to the floor. Food preparation was expected, so this centerpiece element had to be both appealing and practical. A matching cutting board in a chessboard pattern was designed with the dual purpose of saving the countertop and playing games while the water comes to a boil.
Materials: Predominantly cherry with elements of walnut
Finish: A 50/50 mixture of tung oil and citrus thinner, both food-safe products
Details:
Island: Shop fabrication of hundreds of uniform thickness, random length boards, all oriented vertically to present end grain for the top surface. Shipped in three pieces for final fitting, glue-up and finish in place; resulting in one monolithic assembly.
Chessboard/Cutting board: Essentially the same as the island, except with uniform dimension boards of walnut and cherry to make the required pattern.
Dimensions: 36"H x 30" W x 75" L